I'm linking up with Shannon over at
Life After I Dew
for So What! Wednesday today.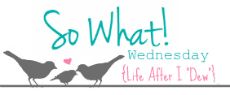 Today I'm saying So What if:
*I am totally jealous of my husband's guy trip to New Orleans this weekend. I need to get over myself because I am headed to the beach with my besties in just a few weeks but man I wish my trip was Friday.
*I totally rescheduled the cleaning lady so that she would come clean the house right before Kate's birthday party. I have no shame in admitting that at all.
*I have been way obsessed with the Olympics and have them on all day long. I'm sure Kate will be happy when her regularly schedule 8am time with Mickey returns.
*I have 7 post in my draft folder just waiting to be finished. They'll get posted eventually, right?
*I haven't thought about what we are getting Kate for her birthday because I've been so focused on her party. I'll figure something out
and pray Amazon sells it so I can get it in 2 days thanks to Prime
.
*My hair has been in a side braid 95% of the time this summer. It is entirely too hot to do anything other than braid it whiles it's still wet.
*Kate's lunch today consisted of a banana, 2 strawberries, and 3 cherry tomatoes. At least she is eating fruit, right? RIGHT?!?
*Poor Will was shoved into a 3m jonjon today because it matches a bubble I have for Kate and I wanted them to wear the set one more time.